Description

Ring Size Measurement

Free Engraving

About Our Rings
More pics:


The 2016 Coastal Carolina Chanticleers baseball team represents Coastal Carolina University in the 2016 NCAA Division I baseball season. The Chanticleers played their home games at Springs Brooks Stadium, on campus in Conway, South Carolina. Gary Gilmore was in his 21st season as the Chanticleers' coach. They won the 2016 College World Series at TD Ameritrade Park in Omaha, Nebraska over Arizona.

The 2016 NCAA Division I Baseball Tournament began on Friday, June 3, 2016, as part of the 2016 NCAA Division I baseball season. The 64 team double elimination tournament concluded with the 2016 College World Series (CWS) in Omaha, Nebraska, starting on June 18, 2016, and ending on June 30, 2016. The 64 participating NCAA Division I college baseball teams were selected out of an eligible 298 teams. Thirty-one teams were awarded an automatic bid as champions of their conferences, and 33 teams were selected at-large by the NCAA Division I Baseball Committee.

Teams were divided into sixteen regionals of four teams, which conducted a double-elimination tournament. Regional champions faced each other in Super Regionals, a best of three game series to determine the eight participants of the College World Series. The Atlantic Coast Conference (ACC) set a conference record and tied the all-time mark of having ten teams in the championship field. A tournament-high seven regional hosts came from the Southeastern Conference (SEC), followed by six of the ten ACC schools; however, only Miami (ACC) and Florida (SEC) advanced to Omaha, and they were the first and second teams eliminated, respectively. For the first time since the tournament expanded from 48 teams in 1999, the NCAA did not select any Pac-12 schools to host a regional, and Lubbock, Texas (Texas Tech) was the westernmost regional host city picked by the selection committee.

In the CWS after Texas Tech lost to Big 12 rival TCU, none of the three national seeds who had reached Omaha had won their opening game. Tech eventually became the fourth team to be eliminated. While Oklahoma State and TCU advanced through the winners' bracket to set up a possible all Big 12 championship, Arizona and Coastal Carolina won both elimination games to advance to the best-of-three game final.

With each teaming winning a game in the championship series to force a winner take all Game 3, the tournament reached the maximum of 17 games for the first time since 2003 when the finals expanded to best-of-three format (as opposed to a single winner take all championship game). Coastal Carolina won the deciding game 4-3, becoming the first team since 1956 to win the title in its first CWS appearance. Coastal Carolina won six elimination games in NCAA post season play, one in a Regional, three in the CWS double elimination bracket, and two in the Championship Series. The runner up, Arizona, won six elimination games, three in a Regional and three in the CWS double elimination bracket, but lost their 7th, the last game of the Championship Series.
Method 1: Use Paper Strips
What you need
To be able to measure the ring size using a paper strip, you will need the followings:
How to measure
Cut a thin strip from the paper

Wrap the strip of paper around the finger. Ensure that the paper is placed below the fingerand close enough to your knuckle.

Mark the area where the paper strip meets, then use the ruler to measure the distance.
Notes to bear in mind
It is important to note that people will large knuckles will need to slide the ring through the knuckle. So, this should be taken into account when sizing the ring. Also, the size of the finger changes with changes in temperature, physical exercise, weight changes as well as medication.
If you are in doubt about the size, it is always ideal to go a size higher than lower.
Method 2: Use String
How to measure
Cut a string that is 6 inches long.

Wrap the string around the base of the ring finger, slightly below the knuckle.

Use the pen to mark the string where it ends.

Lay the string on the ruler with the area marked on your right.

The number closest to the pen mark is the ring size in inches.

You can use the ring chart below to translate the measurements into a ring size.
Also: If there is no string or paper available, masking tape can be used, a wire or a twist-tie can also be used.
Ring Size Chart for Your Reference
The following chart can be used to determine the ring size. Also bear in thought that rings come in half sizes also. So, the measurements of half rings will fall somewhere in between the whole ring sizes.
Conversion chart for ring sizes

Inside diameter

Inside circumference

Sizes

(in)

(mm)

(in)

(mm)

0.65

16.51

2.04

51.9

6

0.666

16.92

2.09

53.1

6.5

0.682

17.32

2.14

54.4

7

0.698

17.73

2.19

55.7

7.5

0.714

18.14

2.24

57

8

0.73

18.54

2.29

58.3

8.5

0.746

18.95

2.34

59.5

9

0.762

19.35

2.39

60.8

9.5

0.778

19.76

2.44

62.1

10

0.794

20.17

2.49

63.4

10.5

0.81

20.57

2.54

64.6

11

0.826

20.98

2.59

65.9

11.5

0.842

21.39

2.65

67.2

12

0.858

21.79

2.7

68.5

12.5

0.874

22.2

2.75

69.7

13

0.89

22.61

2.8

71

13.5

0.906

23.01

2.85

72.3

14

0.922

23.42

2.9

73.6

14.5

0.938

23.83

2.95

74.8

15

0.954

24.23

3

76.1

15.5

0.97

24.64

3.05

77.4

16
Dos and Don'ts About Measuring Ring Size at Home
A ring is a vital investment and thus it is only proper to research extensively before determining a size. There are a few factors that should be considered when it comes to how to measure ring size at home:
Avoid measuring fingers in cold weather as the cold causes shrinking.


Fingers should be measured in warm temperatures, preferably at the end of the day.

If you find that the size comes under two sizes, it is best to go for the larger size.

Measure the size three or four times to be sure that the measurements are accurate.

Fingers can swell from taking steroid based medication or when pregnant. Thus, adjustments should be made accordingly.
Free engraving on the ring and pendant!
This option can help you add some letters on internal of the ring.

Please remark the text in the shopping cart when you place order, then we will engrave them to the internal of the ring.
Free engraving on the back of the pendant, you can add some letters on it.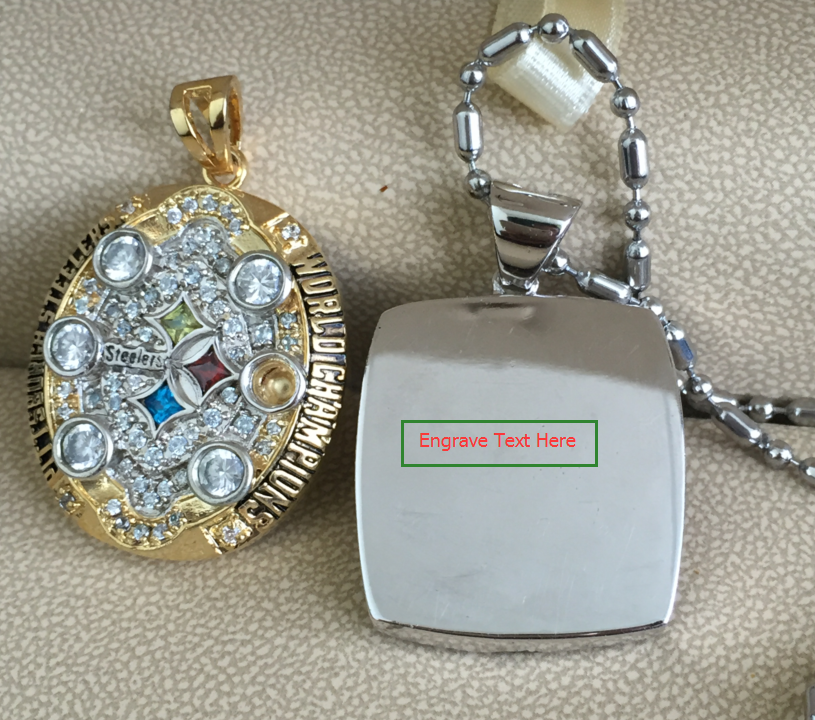 About Our Rings
Our rings are handmade with our skilled workers - All stones are prong set by hand, not glued. We make ring in solid, not hollow. All letters on the ring are deep 3D design.
You can custom your own name & lucky number on the ring by paying extra $30 if your ring is madde by copper or silver. If it is made by gold, customizing name and number is Free !
WHAT YOU SEE IS WHAT YOU GET!
About Materials
Stones: AAA+ cubic zirconias.
Copper coated with yellow/white gold plating (Default as $184, full custom championship ring default as $479)
925 sterling silver coated with yellow/white gold plating (+$110)--Please let us know first if you don't want gold plating.
10K (+$2150)
14K Gold (+$2750)
18K Gold (+$3350)
The defaut option is copper, it is safe, strong and stable. The plating on the ring can last a lifetime for collection. we never and ever make ring with cheap jewelry alloy.
About text on the ring
We can customize the name and number on the ring, but please note that changes are not accepted once we start to process your ring.
About custom name and number
This option allow you to add your name and number outside the ring. Please follow below instruction to place order and remark name and number ! If your ring is madde by copper or silver, please pay extra $30. If it is made by gold, customizing name and number is Free !
Please note that some original rings don't have number on them, to keep the original design, we won't add custom number for those rings either. if you don't select custom name and number option, the default name and number will be on the ring as the pictures on our website. Below is a sample to help you understand the custom name and number easily.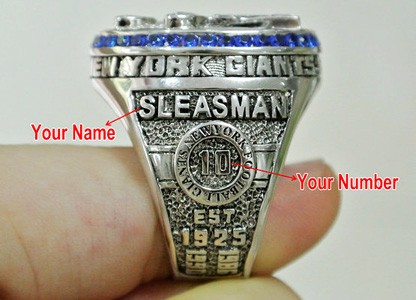 About Packing Box
All the rings will be put into a black wooden box shown as below, and wrap well before ship out. We will make sure every ring is under good proection before you get it!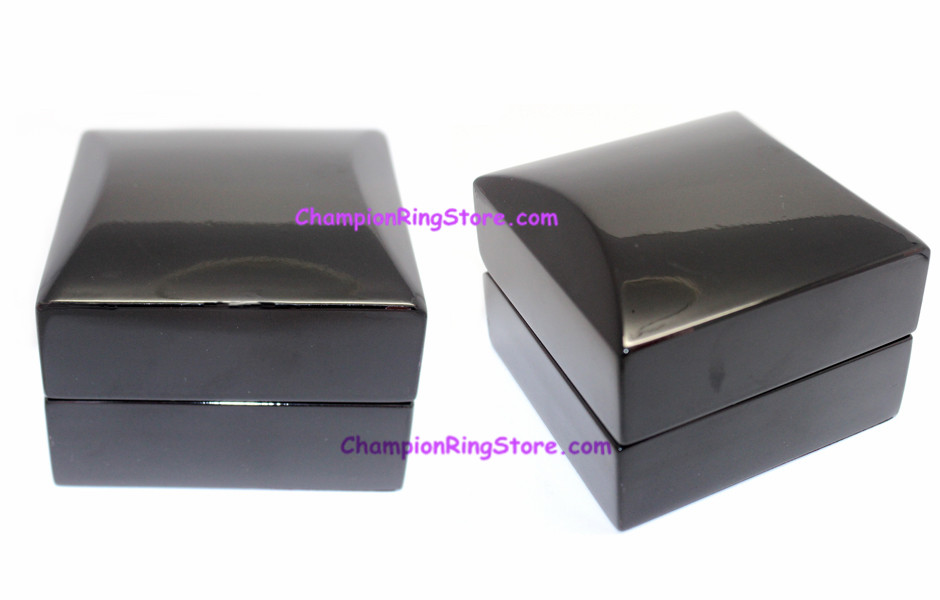 About shipping and production time
FREE SHIPPING WORLDWIDE!
Generally, we ship your order within a week, but if you require name and number/or inside engraving on the ring, it will take about 10 days to complete your order.
Each ring will ship with a wooden ring box, tracking number will be provided after shipment made.
About Payment Terms
Only PAYPAL is accepted. It is a safty payment way for both seller and buyers.